1 September 2020
Do Your Contracts Need A 'Brexit' Clause?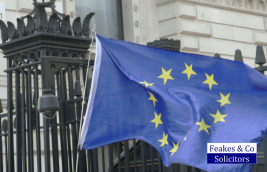 Contracts with customers and suppliers are the building blocks of most businesses. They define and regulate the most important relationships of the business. Many well-drafted contracts will already have a change clause which sets out what happens if an unexpected event occurs. Will different cross-border trade rules brought about by Brexit be covered by this, or do contracts need to have a special 'Brexit clause'?
A Brexit clause could be drafted to trigger automatic changes to other terms of the contract. Or it might set out a procedure where the parties discuss altering the contract. In extreme cases it could lead to the termination the contract.
Why might a Brexit clause be needed?
Exporters in the UK selling to EU countries may find that new Brexit tariffs or regulations make existing contracts unviable. Currently over 44% of UK exports going to the EU, so many manufacturers and retailers are potentially affected by Brexit. A clause in their contracts allowing them to alter the terms may ensure that they are not locked into agreements which have become impractical and unprofitable.
Similarly, manufacturing businesses which import raw materials or goods from the Single Market may see additional costs. A clause allowing them to adjust the prices may allow them to maintain the viability of their import agreement
How does a Brexit clause work?
A Brexit clause is similar to other 'change' clauses such as a force majeure clause. Firstly, it needs to set out clearly what events will trigger it. Secondly, it should define the consequences it if is triggered. For
instance, the trigger event could be that prices change substantially (including tariffs) or the pound-euro exchange rate fluctuates.
There is no 'one size fits all' approach to making sure your contracts are 'Brexit-ready'. Each solution needs to be tailored for each individual business.
Notes
For more information about commercial contracts, click here.