11 September 2020
Covid Lockdown Frustration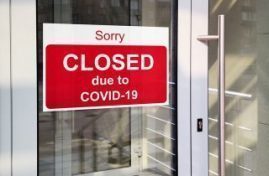 The Covid lockdown was a difficult time for the entire country. But for one of our clients it was doubly frustrating. Their situation provides an interesting example of how contracts can be brought to an end.
The clients provided beauty services to care home residents, and they agreed a contract with a company for Health & Safety compliance services. The clients paid a (high) monthly fee for H&S checks for the benefit of their beauticians and the care home residents. The contract was for 3 years.
The Covid Effect
Then came the lockdown. With care homes badly affected, it meant that our clients' workers could not go into the homes to see their clients. Understandably, our clients contacted the H&S company to cancel the contract: the lockdown restrictions had made their work impossible and the H&S compliance services were no longer needed.
But the H&S company refused to cancel the contract. It told our client that they had to keep making the monthly payments for the full 3-year period, which amounted to several thousand pounds. This was despite the clients not needing their services. In fact, as our clients said to the company, it was impossible for it to do its H&S work, because the care homes were closed. This cut no ice: it was holding out for the money.
Frustration Of Contracts And 'Force Majeure'
After reading the contract, we advised our clients that the 'doctrine of frustration' applied to their contract. A contract can be frustrated if it's impossible for one party to perform its contractual obligations due to an event for which neither party is responsible. Here, our clients' contract had been frustrated by the lockdown restrictions, which prohibited access to care homes.
The contract also included a 'force majeure' clause. This is a common feature in service contracts. A force majeure event is an event which is unforeseeable at the time of signing the contract and means the parties cannot perform their contractual obligations. The effect is similar to frustration of the contract: it means the parties do not have to carry out the contract.
In the commercial world it is widely accepted that the lockdown restrictions were a force majeure event. For our clients, the restrictions which effectively halted their business were entirely unforeseeable, so the force majeure clause should apply.
We took over correspondence with the company, and after some forceful arguments, they accepted that the contract had come to an end. It was formally 'frustrated' by the lockdown, which was also a force majeure event. This was a welcome outcome for our clients – it saved them several thousand pounds. It meant that the business could stay afloat until the care homes opened up again, and normal service could be resumed.
Notes
For more information about commercial disputes click here.
For more information about contracts click here.